Regular price
Sale price
$35.00 USD
Unit price
per
Sale
Sold out
Alchemyst Co Taurus Zodiac Natural Perfume is designed to bring out the best attributes of this sign with woody, spicy and earthy tones.
Amber, balsam, sandalwood and cardamom speaks to Taurus' stability and determination, balanced by notes of citrus, and spring flowers to assist Taurus to embrace change and vulnerability.
We use bioenergy to charge this perfume and polarize it resulting a harmonizing, balanced blend, evocative of Taurus' desires for connection, achievement, beauty, romance and autonomy.
Wearing this perfume will help you let go of rigidity so you can focus on your goals, embrace change and persevere over uncertainty.
ABOUT TAURUS & ITS INFLUENCES
Sun Sign Birth Dates:
April 21 - May 20
Zodiac Symbol:
Bull
Element:
Earth (Fixed)
Ruling Planet:
Venus
Opposite Sign:
Scorpio
Cusp of Power - Taurus Influence: April 16 - 22
Cusp of Energy - Taurus Influence: May 17 - 23
Taurus the Bull: ruled by the planet Venus, Taurus is rooted in earth energy. Deep blues and greens are their colors and Friday and Monday are days of the week for most optimal focus associated with this zodiac sign.
People born with Taurus as an influence tend to be romantic. As a fixed sign, Taureans have a hard time tolerating insecurity or sudden changes.
Depending on where Taurus resides in your chart may indicate a protective nature over what you have manifested, and hold dear in your life; this determines where in our lives we become the protector. Taurus is dependable, with a strength of will, and can also be stubborn at times.
Taureans often enjoy relaxing in quiet, peaceful environments, with things that soothe their senses after a long day at work. They are associated with qualities like depth and determination.
Taurus is a lover of beauty and affection, with keen senses for aesthetics.

If Taurus is:
Your Sun Sign: you are likely logical with a stable career path or home life and a fierce sense of protection.
Your Ascendant sign: you are likely smart and focused with a strength of determination, will to achieve your goals, and ability to analyze situations or people around you.
Your Moon sign: you are likely organized and conservative, with a secret romantic streak and hidden insecurities when it comes to trust and relationships.
Perhaps Taurus is your Ascendant, Sun, or Moon sign and is influencing your life in ways you did not yet realize.

Details

◆ Alchemyst Co Products are protected in UV-protected, matte reusable black glass, UV protected 100% recycled BPA plastic, or 100% recycled sealed bags. Our packaging is designed to protect your products from all forms of harmful UV light and degradation to preserve the integrity of your product & increase its lifespan.

◇ Every product is made of 100% pure, lab-tested, certified organic ingredients.

◆ Each product is artisan handcrafted in small batches, then carefully bioenergized and polarized using our proprietary technology to imbue specific frequencies and various different crystals to activate and harmonize every product for maximum efficacy.

◇ None of our information is intended to be an enticement to purchase and may not be construed as medical advice.

◆ All our products come with information & education including directions for use and ingredients.

◇ Our perfume oils contain 100% certified organic, natural ingredients, no artificial or synthetic fragrances, fixatives or preservatives.

◆ Our perfume oils & aromatherapy oils will contain notes, but not the expressed proprietary ingerdient list due to our proprietary secret recipes.

◇ 100% Cruelty free. No animal testing. No petrochemicals. No parabens. No sulfates. No phthalates. No toxic preservatives or harmful substances.

◆ If you have any questions, please contact us at support@alchemystco.com. We are here to assist you in selecting your most optimal Alchemyst Co products to help you live your best life.

◇ FDA DISCLAIMER: These statements have not been evaluated by the Food and Drug Administration. Our products are not intended to diagnose, treat, cure or prevent any disease.

◆ Alchemyst Co products are vastly different than any other in the world you may have tried and are more potent. Alchemyst Co products have a powerful effect as formulated following our recommended use guideline.

◇ Alchemyst Co assumes no responsibility or liability for the use of and self-diagnosis and/or treatment using these products. 

◆ None of the products or information available to the public are intended to be a treatment protocol for any disease state, but rather are offered to provide education only and regarding support for various concerns.
Ingredients

◆ many of our proprietary compositions fall under US Intellectual Property Law. In these intstances, we will provide scent notes and insights as to our processes, but not disclose the percentages or exact details of our natural perfumes.

◇ Our compositions are lab-tested, certified organic and contain no artificial fragrances, phalates, petrochemicals, carcinogens, or toxic artificial preservatives or fixatives.

◆ We only use Certified Organic Jojoba and Certified Organic Meadowfoam Seed Oils as carrier oils due to their hypoallergic composition and ability to retain our energetic frequencies.

◇ Please refer to the packaging insert for complete details.
Directions

Please see product insert info card for full directions.
Shipping

It takes 3 business days to process your order prior to shipping. Please allow 1-2 weeks to receive your order.

FREE US DOMESTIC SHIPPING IS AVAILABLE FOR ORDERS $100 or more.
Love Alchemyst Co? Share with your friends!
View full details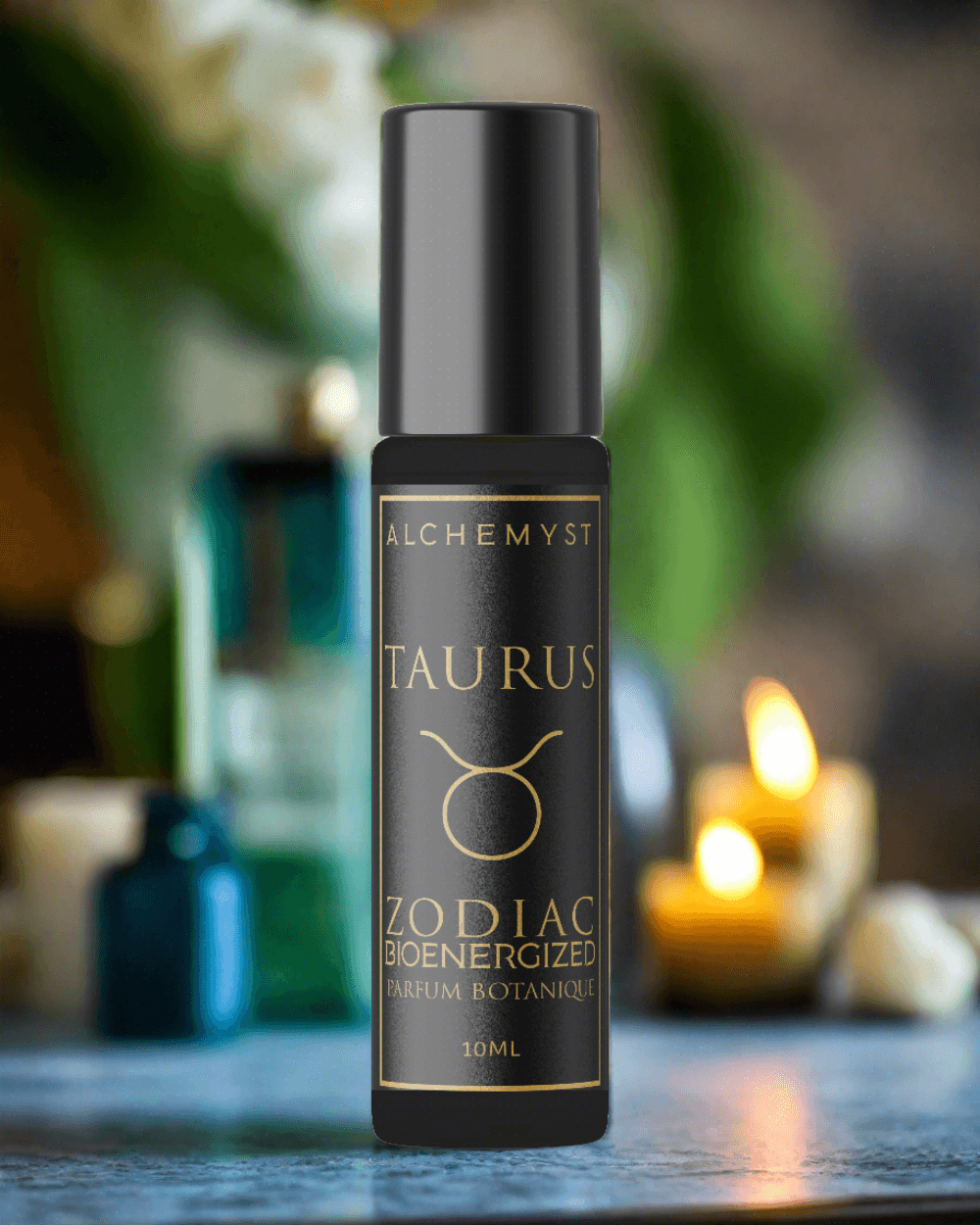 FREE SHIPPING OVER $100

We offer free domestic priority shipping on all orders over $100. International shipping does not apply.

learn more

FREE TRACKING

We offer free tracking numbers for all orders placed so you can be assured your order is on its way to you.

track your order