Regular price
Sale price
$16.00 USD
Unit price
per
Sale
Sold out
Your sleep is a vital necessity for restoring mind, body and spirit. With Alchemyst Co's Sleep Deep™ bioenergized blend, it still can be. Use SLEEP DEEP™ to relax, unwind, quiet your mind, and melt away the stress of the day so that you can slip effortlessly slip into a deep, restorative sleep and wake up refreshed, ready to conquer your day.
Struggling to fall or stay asleep, or not getting the quality of sleep your body needs to feel its best?
Use SLEEP DEEP™ as a part of your bedtime ritual and fall into a deep, luxurious, restorative sleep every night. When blended with Relax & Peace, you'll find your mind slows down and 
Formulated with oils known for their sleep-inducing effects, SLEEP DEEP™ ™ can help give your body the rest it craves so that you can regenerate and heal during the night and wake up feeling refreshed, alert and clear-minded in the morning.
This blend works wonders for kids too!
*These statements have not been evaluated by the Food and Drug Administration. This product is not intended to diagnose, treat, cure or prevent any disease.
Details

◆ Alchemyst Co Products are protected in UV-protected, matte reusable black glass, UV protected 100% recycled BPA plastic, or 100% recycled sealed bags. Our packaging is designed to protect your products from all forms of harmful UV light and degradation to preserve the integrity of your product & increase its lifespan.

◇ Every product is made of 100% pure, lab-tested, certified organic ingredients.

◆ Each product is artisan handcrafted in small batches, then carefully bioenergized and polarized using our proprietary technology to imbue specific frequencies and various different crystals to activate and harmonize every product for maximum efficacy.

◇ None of our information is intended to be an enticement to purchase and may not be construed as medical advice.

◆ All our products come with information & education including directions for use and ingredients.

◇ Our perfume oils contain 100% certified organic, natural ingredients, no artificial or synthetic fragrances, fixatives or preservatives.

◆ Our perfume oils & aromatherapy oils will contain notes, but not the expressed proprietary ingerdient list due to our proprietary secret recipes.

◇ 100% Cruelty free. No animal testing. No petrochemicals. No parabens. No sulfates. No phthalates. No toxic preservatives or harmful substances.

◆ If you have any questions, please contact us at support@alchemystco.com. We are here to assist you in selecting your most optimal Alchemyst Co products to help you live your best life.

◇ FDA DISCLAIMER: These statements have not been evaluated by the Food and Drug Administration. Our products are not intended to diagnose, treat, cure or prevent any disease.

◆ Alchemyst Co products are vastly different than any other in the world you may have tried and are more potent. Alchemyst Co products have a powerful effect as formulated following our recommended use guideline.

◇ Alchemyst Co assumes no responsibility or liability for the use of and self-diagnosis and/or treatment using these products. 

◆ None of the products or information available to the public are intended to be a treatment protocol for any disease state, but rather are offered to provide education only and regarding support for various concerns.
Ingredients

Alchemyst Co proprietary, bioenergized formula of certified organic, lab-tested essential oils of Mandarin, Lavender, Ylang Ylang, Tangerine, Patchouli, Blue Tansy, Vanilla, Lime, and Chamomile in a base of fractionated certified organic Jojoba & Meadowfoam Seed Oil.

◆ many of our proprietary compositions fall under US Intellectual Property Law. In these intstances, we will provide scent notes and insights as to our processes, but not disclose the percentages or exact details of our natural perfumes.

◇ Our compositions are lab-tested, certified organic and contain no artificial fragrances, phalates, petrochemicals, carcinogens, or toxic artificial preservatives or fixatives.

◆ We only use Certified Organic Jojoba and Certified Organic Meadowfoam Seed Oils as carrier oils due to their hypoallergic composition and ability to retain our energetic frequencies.

◇ Please refer to the packaging insert for complete details.
Directions

Designed for aromatic and topical use. If using topically, we recommend applying 2-3 drops to the back of the neck or bottom of the feet at bedtime to promote relaxation. You can also add the drops to a cotton ball and put inside your pillowcase. For insomnia, we recommend applying 2-3 drops to the navel, legs and neck.

Always test on a nickel sized portion of skin first. Make sure your skin can handle the oil/blend before using. For aromatic usage, hold the bottle under nose for 3 or 4 breaths.

Please see product insert info card for full directions.
Shipping

It takes 3 business days to process your order prior to shipping. Please allow 1-2 weeks to receive your order.

FREE US DOMESTIC SHIPPING IS AVAILABLE FOR ORDERS $100 or more.
Love Alchemyst Co? Share with your friends!
View full details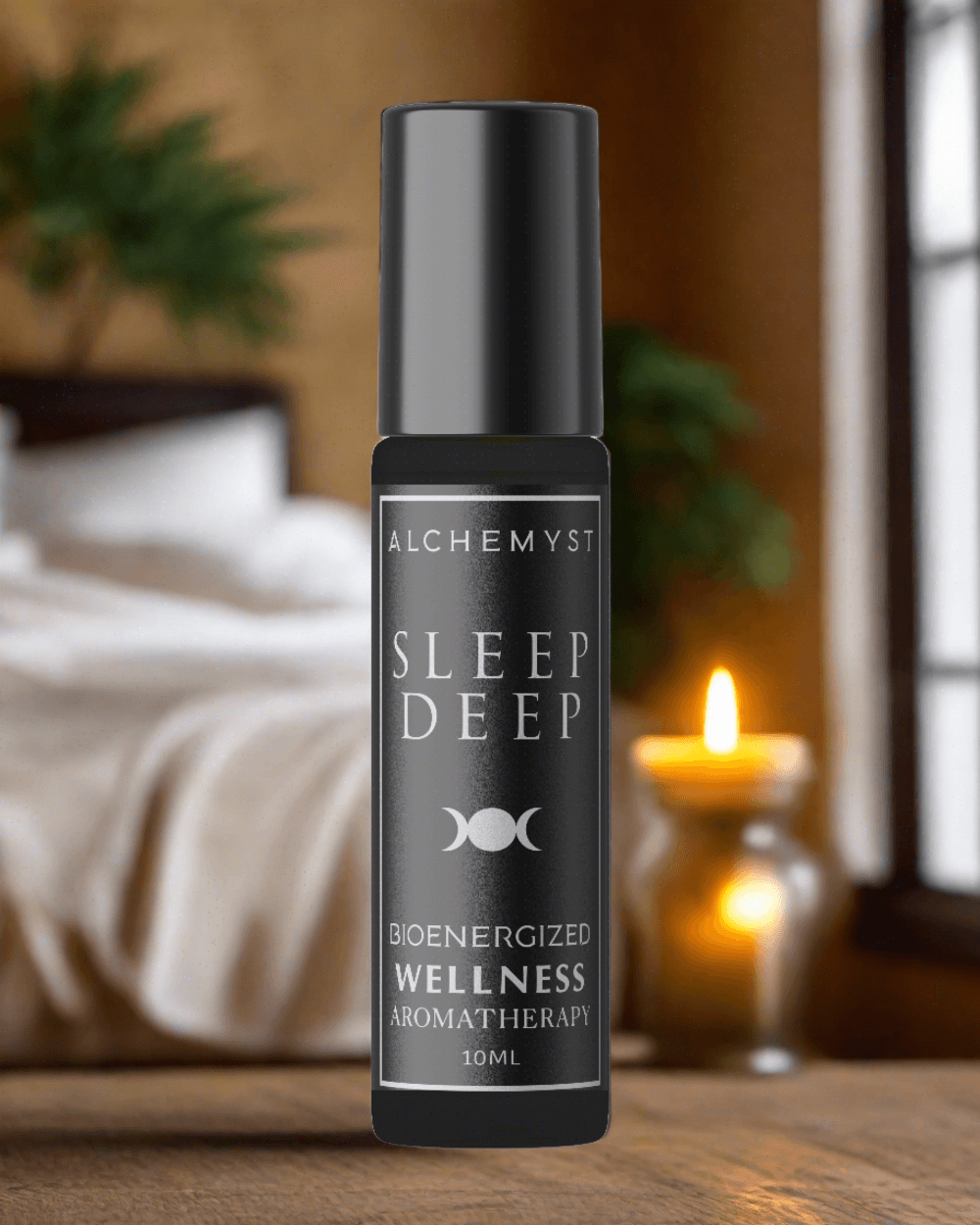 FREE SHIPPING OVER $100

We offer free domestic priority shipping on all orders over $100. International shipping does not apply.

learn more

FREE TRACKING

We offer free tracking numbers for all orders placed so you can be assured your order is on its way to you.

track your order