Regular price
Sale price
$12.00 USD
Unit price
per
Sale
Sold out
Alchemyst Co Organic 17 Superfoods Greens Powder B+ contains 30+ nutrients to nourish your body, mind and soul. Our unique formulation help you fight bloat, aid digestion, increase natural energy and boost immunity.
You won't find a more powerful mix of certified organic, lab-tested, free from heavy metals Superfoods Greens with B vitamins anywhere. Our superfood greens B+ is dried using ultra low temperatures to ensure maximum nutrient bioavailability.
You'll enjoy maximum nutrition, nourish your immune system, and attain optimum health with our remarkable superfoods blend. It's also mild in flavor for delicious smoothies.
Superfoods Greens Powder B+ is loaded with antioxidants, polyphenols, polysaccharides, bioflavonoids, enzymes, amino acids, vitamins, and minerals.
About Organic 17 Superfoods Greens Powder B+
✓ A cleansing blend made with organic ingredients designed to detoxify the body and regulate metabolism.
✓ Contains a source of antioxidants, magnesium, B vitamins, iron, zinc, Vitamin C, and calcium.
✓ Supports a healthy immune system and assists with digestion.
✓ Anti-inflammatory properties from chlorella and spirulina which may reduce inflammation.
✓ May boost stamina levels to keep you energized.
✓ Perfect for smoothies, lattes, baked treats, noodles and whatever your creative mind can think of!
✓ Gluten Free
✓ 100% Natural
✓ No Fillers
✓ No Artificial Additives
✓ Nutrient Dense
100% natural, organic ingredients.
• High in Vitamin A, Iron, & B Vitamins
• Vegan & Vegetarian
• No Sweeteners or Fillers Added
• Fat-Free & Caffeine-Free
• Easily Digested and Absorbed by your Body

Wellness Benefits:
Improved Digestion
Improved Focus
Anxiety + Stress Support
Improves Skin & Hair
Improves stamina and blood circulation
Helps balance hormones
Nourishes the body
Helps balance blood sugar
What Are the Advantages of Organic 17 Superfoods Greens Powder B+ ?
Not eating enough fruits and vegetables? Feeling a lack of energy? Immune system need a boost?
Green superfoods are some of the most nutrient dense, alkalizing and detoxifying foods on the planet. Greens powders are an excellent way to make up for those times when you or your family aren't getting enough fruits and veggies, you're constantly on the go, or you just want an extra nutritional boost. Here are some benefits of greens powders:

Alkalizing
Detoxifying
Immune Enhancing
Energy Boosting
Support Healthy Digestion/Elimination
Support Healthy Circulation
Boost Mental Clarity
Details

◆ Alchemyst Co Products are protected in UV-protected, matte reusable black glass, UV protected 100% recycled BPA plastic, or 100% recycled sealed bags. Our packaging is designed to protect your products from all forms of harmful UV light and degradation to preserve the integrity of your product & increase its lifespan.

◇ Every product is made of 100% pure, lab-tested, certified organic ingredients.

◆ Each product is artisan handcrafted in small batches, then carefully bioenergized and polarized using our proprietary technology to imbue specific frequencies and various different crystals to activate and harmonize every product for maximum efficacy.

◇ None of our information is intended to be an enticement to purchase and may not be construed as medical advice.

◆ All our products come with information & education including directions for use and ingredients.

◇ Our perfume oils contain 100% certified organic, natural ingredients, no artificial or synthetic fragrances, fixatives or preservatives.

◆ Our perfume oils & aromatherapy oils will contain notes, but not the expressed proprietary ingerdient list due to our proprietary secret recipes.

◇ 100% Cruelty free. No animal testing. No petrochemicals. No parabens. No sulfates. No phthalates. No toxic preservatives or harmful substances.

◆ If you have any questions, please contact us at support@alchemystco.com. We are here to assist you in selecting your most optimal Alchemyst Co products to help you live your best life.

◇ FDA DISCLAIMER: These statements have not been evaluated by the Food and Drug Administration. Our products are not intended to diagnose, treat, cure or prevent any disease.

◆ Alchemyst Co products are vastly different than any other in the world you may have tried and are more potent. Alchemyst Co products have a powerful effect as formulated following our recommended use guideline.

◇ Alchemyst Co assumes no responsibility or liability for the use of and self-diagnosis and/or treatment using these products. 

◆ None of the products or information available to the public are intended to be a treatment protocol for any disease state, but rather are offered to provide education only and regarding support for various concerns.
Ingredients

Organic barley grass, organic wheat grass, organic spirulina, organic alfalfa leaf, organic spinach leaf, organic kelp, organic dulse leaf, organic moringa leaf, <br>organic orange peel, organic nutritional yeast, organic beet root, organic chlorella, organic ginger, organic ashwagandha, organic lemon peel, organic wheat grass <br>juice, and organic dandelion leaf.

◆ many of our proprietary compositions fall under US Intellectual Property Law. In these intstances, we will provide scent notes and insights as to our processes, but not disclose the percentages or exact details of our natural perfumes.

◇ Our compositions are lab-tested, certified organic and contain no artificial fragrances, phalates, petrochemicals, carcinogens, or toxic artificial preservatives or fixatives.

◆ We only use Certified Organic Jojoba and Certified Organic Meadowfoam Seed Oils as carrier oils due to their hypoallergic composition and ability to retain our energetic frequencies.

◇ Please refer to the packaging insert for complete details.
Directions

Daily serving size: Mix 1 teaspoon (2.3g) with 8 fl oz of water or juice, or add to protein powder, fruit and water or milk of your choice for a delicious smoothie.

Store in cool dry place.
Expires 1 year after purchase

Please see product insert info card for full directions.
Shipping

It takes 3 business days to process your order prior to shipping. Please allow 1-2 weeks to receive your order.

FREE US DOMESTIC SHIPPING IS AVAILABLE FOR ORDERS $100 or more.
Love Alchemyst Co? Share with your friends!
View full details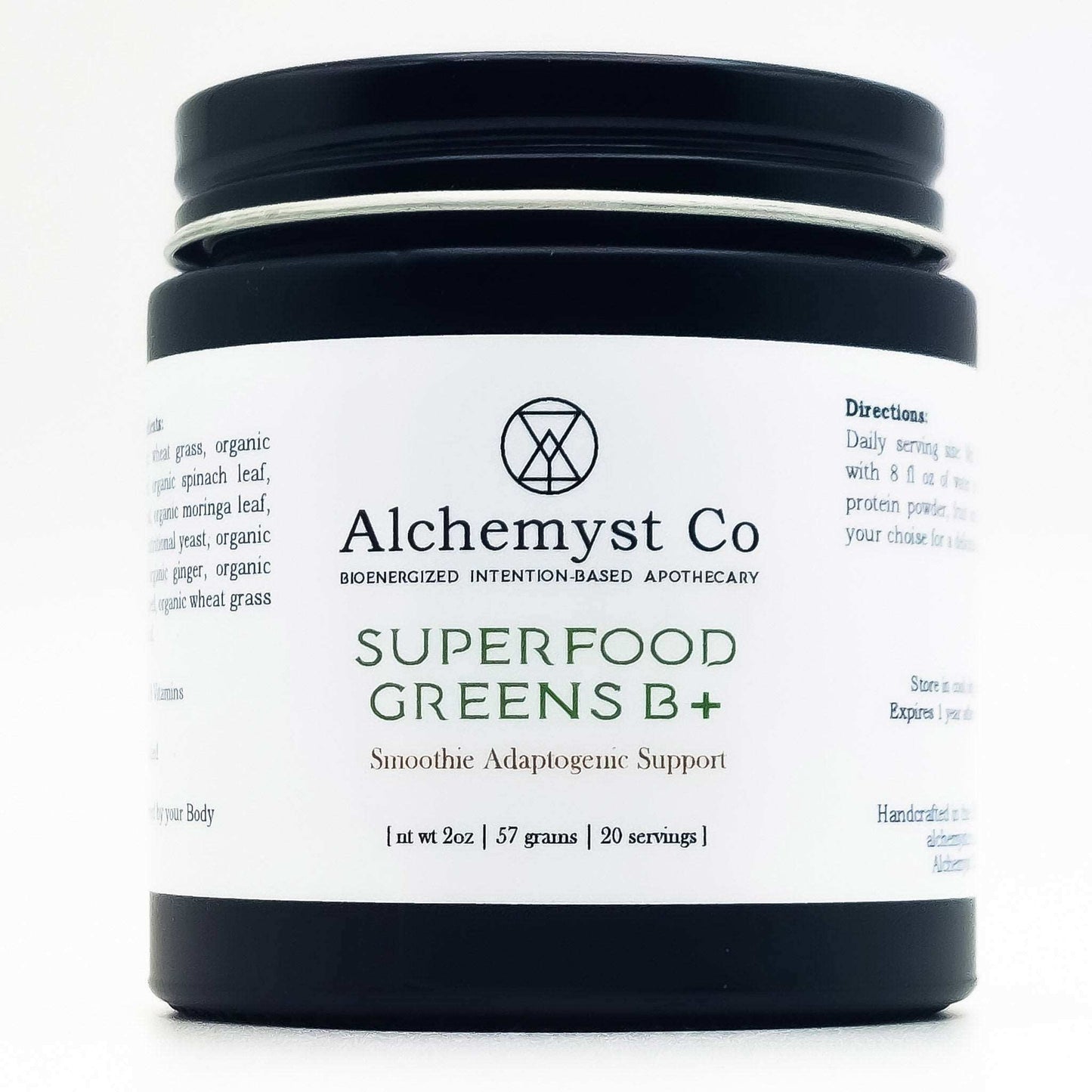 FREE SHIPPING OVER $100

We offer free domestic priority shipping on all orders over $100. International shipping does not apply.

learn more

FREE TRACKING

We offer free tracking numbers for all orders placed so you can be assured your order is on its way to you.

track your order