Regular price
Sale price
$18.00 USD
Unit price
per
Sale
Sold out
Allergy Ease essential oil roller provides rapid, natural allergy relief of bothersome symptoms. Expertly blended essential oils bioenergized to support your body during allergy season or any change of season.
Our natural allergy relief offers powerful antihistamine properties, bringing natural relief of allergy symptoms like sneezing, watery eyes, coughing, and itchy throat.
Allergy Ease essential oil roller provides rapid, natural allergy relief of bothersome hay fever symptoms.
I carefully formulated this roll-on for my own allergy relief and the results I could not be more pleased with. All my customers use this roll-on with great success. Gentle enough to be used by children, potent enough for the adults in your life.
About Allergy Ease | Natural Allergy Relief
Copaiba essential oil - copaiba oil has many medicinal and therapeutic constituents that offer a host of anti-inflammatory support, antioxidant compounds, reducing allergic responses to a wide variety of environmental, chemical and food-related allergens. Copaiba assists in increasing oxygen uptake in the blood, increasing circulation and reducing histamine activity.
Copaene, a compound unique to copaiba, provides whole-body immune system support, stabilizing immune system responses and helps your immune system function more optimally, reducing auto-immune maladaptive responses to potential allergens.
As a treatment for respiratory issues, copaiba acts as a decongestant without the caustic effect on your sensitive tissues from other oils such as lemon or peppermint oil.
Frankincense essential oil - one of the best (yet rarely used) essential oil for rapid allergy relief is frankincense. There is conclusive evidence that frankincense's anti-inflammatory properties aids in relieving inflammation like skin irritation, congestion and sinus infections, as well as reducing obstruction of the airways.
Relieving a wide array of allergy symptoms, its one of the best for relief from coughing, inflamed nasal passages, sneezing, runny noses and irritated air passageways.
Boswellia serrata has a powerful immune balancing effect on asthmatic conditions by relaxing airways and opening the bronchial sacs.
Melaleuca tea tree oil - melaleuca tea tree oil is a powerful allergen reducing oil. Its antimicrobial effects reduces allergies linked to fungus, mold, and yeast infections, providing relief from sneezing, runny noses, reduced airflow and opening bronchial airways.
Basil essential oil - Basil oil acts as an anti-inflammatory with antihistamine activity. It has antimicrobial properties and can kill bacteria, yeast, and mold, which can cause asthma, allergies and respiratory damage.
Basil fully reduces the inflammatory responses of allergens while supporting the adrenal glands, and reducing stress hormones by helping your body to metabolize them and reduce reactivity.
Eucalyptus globulus essential oil - a cooling oil that attracts oxygen to the surface of the skin, thus cooling down inflamed tissues.
A natural expectorant, eucalyptus treats nasal congestion, congested lungs, relieves inflammation, cools nasal passages, and improves airflow and oxygen uptake in the blood stream. Eucalyptus is a powerful histamine blocker.
Lavendula angistifolia essential oil - one of the most powerful antihistamines, lavender oil is known to be one of the best for allergy relief. It opens the mucinous membranes, completely blocks histamines, reduces sneezing, wheezing, coughing and increases oxygen uptake.
Details

◆ Alchemyst Co Products are protected in UV-protected, matte reusable black glass, UV protected 100% recycled BPA plastic, or 100% recycled sealed bags. Our packaging is designed to protect your products from all forms of harmful UV light and degradation to preserve the integrity of your product & increase its lifespan.

◇ Every product is made of 100% pure, lab-tested, certified organic ingredients.

◆ Each product is artisan handcrafted in small batches, then carefully bioenergized and polarized using our proprietary technology to imbue specific frequencies and various different crystals to activate and harmonize every product for maximum efficacy.

◇ None of our information is intended to be an enticement to purchase and may not be construed as medical advice.

◆ All our products come with information & education including directions for use and ingredients.

◇ Our perfume oils contain 100% certified organic, natural ingredients, no artificial or synthetic fragrances, fixatives or preservatives.

◆ Our perfume oils & aromatherapy oils will contain notes, but not the expressed proprietary ingerdient list due to our proprietary secret recipes.

◇ 100% Cruelty free. No animal testing. No petrochemicals. No parabens. No sulfates. No phthalates. No toxic preservatives or harmful substances.

◆ If you have any questions, please contact us at support@alchemystco.com. We are here to assist you in selecting your most optimal Alchemyst Co products to help you live your best life.

◇ FDA DISCLAIMER: These statements have not been evaluated by the Food and Drug Administration. Our products are not intended to diagnose, treat, cure or prevent any disease.

◆ Alchemyst Co products are vastly different than any other in the world you may have tried and are more potent. Alchemyst Co products have a powerful effect as formulated following our recommended use guideline.

◇ Alchemyst Co assumes no responsibility or liability for the use of and self-diagnosis and/or treatment using these products. 

◆ None of the products or information available to the public are intended to be a treatment protocol for any disease state, but rather are offered to provide education only and regarding support for various concerns.
Ingredients

Certified Organic, lab tested essential oils of copaiba, frankincense, tea tree, basil, eucalyptus, lavender, bioenergized in jojoba and meadowfoam seed oil


◆ many of our proprietary compositions fall under US Intellectual Property Law. In these intstances, we will provide scent notes and insights as to our processes, but not disclose the percentages or exact details of our natural perfumes.

◇ Our compositions are lab-tested, certified organic and contain no artificial fragrances, phalates, petrochemicals, carcinogens, or toxic artificial preservatives or fixatives.

◆ We only use Certified Organic Jojoba and Certified Organic Meadowfoam Seed Oils as carrier oils due to their hypoallergic composition and ability to retain our energetic frequencies.

◇ Please refer to the packaging insert for complete details.
Directions

For rapid, natural allergy relief, apply to the temples, under the nose, behind the ears, neck, or liberally across the chest and wrists. Alternatively, roll liberally onto the palms, rub together to activate then tent over the nose and mouth and breathe deeply for 2-3 minutes.

Please see product insert info card for full directions.
Shipping

It takes 3 business days to process your order prior to shipping. Please allow 1-2 weeks to receive your order.

FREE US DOMESTIC SHIPPING IS AVAILABLE FOR ORDERS $100 or more.
Love Alchemyst Co? Share with your friends!
View full details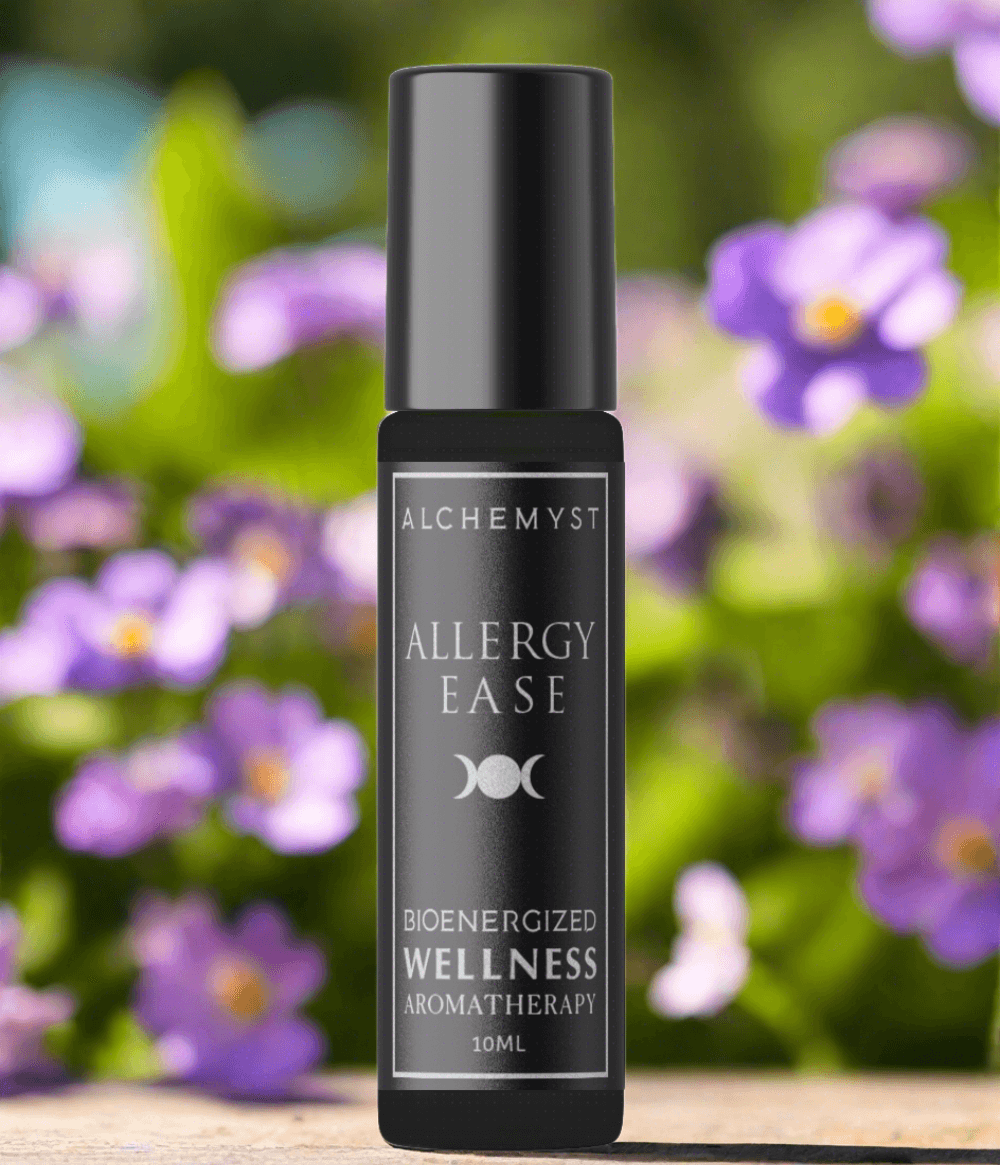 FREE SHIPPING OVER $100

We offer free domestic priority shipping on all orders over $100. International shipping does not apply.

learn more

FREE TRACKING

We offer free tracking numbers for all orders placed so you can be assured your order is on its way to you.

track your order