Regular price
Sale price
$5.00 USD
Unit price
per
Sale
Sold out
Bioenergized with the archangel frequencies of Michael - This Archangel Anointing oil is created with a blend of natural essential oils, sacred woods, resins and absolutes, especially chosen for their celestial and spiritual properties. Blended with certified organic jojoba and meadowfoam seed oil, this anointing oil is handcrafted during Michael's highest astrological significance. 
Michael is the Defender of the Cardinal South, Archangel of Saturn, Elemental Fire and a Divine Protector and Messenger. Michael comes bearing the blue flaming sword of divine protection. Michael upholds fair and balanced outcomes in life and is considered by many to be one of the easier Archangels to connect with. 
He is defender of children, of those involved with police work, protection or military. 
Anoint candles, charms, talismans, and your body to honor Archangel Michael, for help to release fear, doubt, clear away negativity and feel protected with a fiery wall of Michael's divine fire as you walk your path. 
When Michael is near, you may see sparkles or flashes of bright blue or a fiery light. Call on Michael if you find yourself under attack or if you feel you lack commitment, motivation and dedication to your beliefs, courage, direction, energy, vitality, self-esteem, worthiness. He uses his sword to severe toxic chords from the past to liberate you to live your best life. 

Applied topically, the oil helps to connect users to call upon the Archangel Michael to bring about balance and well-being. Michael will ground and protect the user. Refreshing and uplifting, this blend offers the perfect blend of pleasant aroma and spiritual connection.
This oil is an offering and summoning oil created to channel the energy and power of Michael. To call upon him, open a circle, set white candles at each cardinal point and anoint them with this oil. Ask him to bring you guidance. 
For Strength, Protection and Grounding, apply to your hands, rub them firmly for 30 seconds, then smell the aroma coming from your palms, and wipe your aura, or someone else to remove negative influences.
For healers, therapists or readers: To purify a space prior to your work, apply this anointing oil to a piece of Palo Santo Wood and place in each corner of the room starting from the East and ask Michael to protect the space and provide the courage to receive divine messages, & support throughout your session. 
These Master Anointing Oils are derived from the oldest and most powerful texts, blended with specific alchemical ingredients and bioenergized with specific frequencies. These oils are infused with the energy of stones, crystals, and other sacred items. 
Details

◆ Alchemyst Co Products are protected in UV-protected, matte reusable black glass, UV protected 100% recycled BPA plastic, or 100% recycled sealed bags. Our packaging is designed to protect your products from all forms of harmful UV light and degradation to preserve the integrity of your product & increase its lifespan.

◇ Every product is made of 100% pure, lab-tested, certified organic ingredients.

◆ Each product is artisan handcrafted in small batches, then carefully bioenergized and polarized using our proprietary technology to imbue specific frequencies and various different crystals to activate and harmonize every product for maximum efficacy.

◇ None of our information is intended to be an enticement to purchase and may not be construed as medical advice.

◆ All our products come with information & education including directions for use and ingredients.

◇ Our perfume oils contain 100% certified organic, natural ingredients, no artificial or synthetic fragrances, fixatives or preservatives.

◆ Our perfume oils & aromatherapy oils will contain notes, but not the expressed proprietary ingerdient list due to our proprietary secret recipes.

◇ 100% Cruelty free. No animal testing. No petrochemicals. No parabens. No sulfates. No phthalates. No toxic preservatives or harmful substances.

◆ If you have any questions, please contact us at support@alchemystco.com. We are here to assist you in selecting your most optimal Alchemyst Co products to help you live your best life.

◇ FDA DISCLAIMER: These statements have not been evaluated by the Food and Drug Administration. Our products are not intended to diagnose, treat, cure or prevent any disease.

◆ Alchemyst Co products are vastly different than any other in the world you may have tried and are more potent. Alchemyst Co products have a powerful effect as formulated following our recommended use guideline.

◇ Alchemyst Co assumes no responsibility or liability for the use of and self-diagnosis and/or treatment using these products. 

◆ None of the products or information available to the public are intended to be a treatment protocol for any disease state, but rather are offered to provide education only and regarding support for various concerns.
Ingredients

◆ many of our proprietary compositions fall under US Intellectual Property Law. In these intstances, we will provide scent notes and insights as to our processes, but not disclose the percentages or exact details of our natural perfumes.

◇ Our compositions are lab-tested, certified organic and contain no artificial fragrances, phalates, petrochemicals, carcinogens, or toxic artificial preservatives or fixatives.

◆ We only use Certified Organic Jojoba and Certified Organic Meadowfoam Seed Oils as carrier oils due to their hypoallergic composition and ability to retain our energetic frequencies.

◇ Please refer to the packaging insert for complete details.
Directions

Use to anoint yourself and ritual items prior to working with the ArchAngel Michael. Apply on pulse points, your crown, heart, hands and feet.

Please see product insert info card for full directions.
Shipping

It takes 3 business days to process your order prior to shipping. Please allow 1-2 weeks to receive your order.

FREE US DOMESTIC SHIPPING IS AVAILABLE FOR ORDERS $100 or more.
Love Alchemyst Co? Share with your friends!
View full details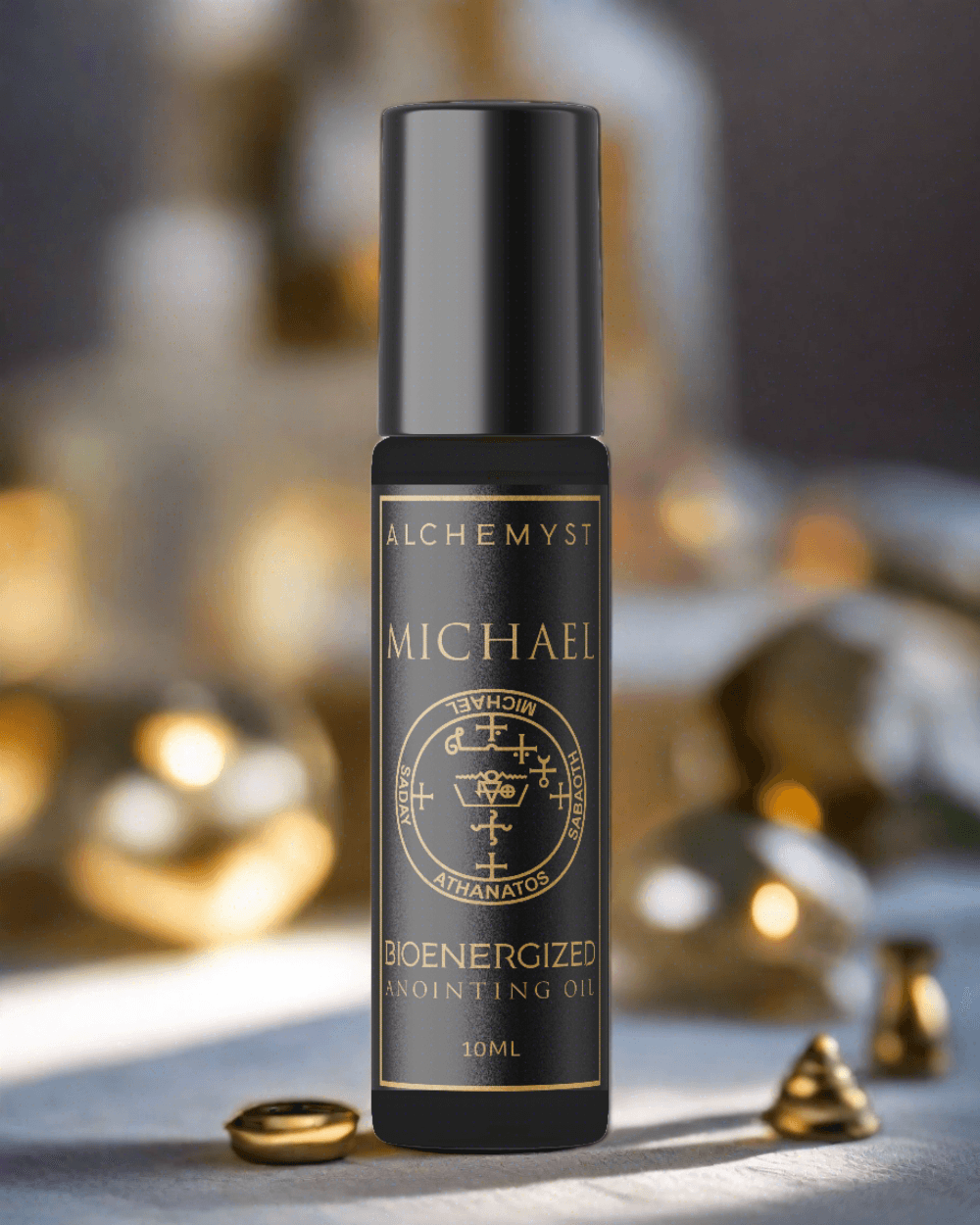 FREE SHIPPING OVER $100

We offer free domestic priority shipping on all orders over $100. International shipping does not apply.

learn more

FREE TRACKING

We offer free tracking numbers for all orders placed so you can be assured your order is on its way to you.

track your order