Regular price
Sale price
$12.00 USD
Unit price
per
Sale
Sold out
Chaga Chai is Alchemyst Co's Total Body Wellness version of the morning latte, and spiked with a powerful dose of the planet's greatest adaptogens.
Upgrade your morning ritual with Chaga Chai, a medicinal mushroom superfood powerhouse.
Chaga Chai is a super healthy & delicious certified organic mushroom-based adaptogenic energetic tea, without the caffeine.
Alchemyst Co's Chaga Chai is the ultimate superfood version of your good-morning tea or latte, spiked to wake you up and rev up your morning, without the caffeine. Chaga is rich in polysaccharides and triterpenoids.
Additionally, it's extremely high in antioxidants with one of the highest ORAC factors on the planet!
A super healthy & delicious mushroom-based adaptogenic energetic tea, without the caffeine. Alchemyst Co's Chaga Chai is the ultimate superfood version of your good-morning tea or latte, spiked with an effective dose of the planet's greatest adaptogens.
Chaga is rich in both polysaccharides and triterpenoids. Additionally, it's extremely high in antioxidants with one of the highest ORAC factors on the planet.
CHAGA HAS THE HIGHEST NATURAL SOURCE OF ANTIOXIDANTS
Chaga contains more antioxidants than 3lbs of blueberries and 30lbs of carrots. Antioxidants are anti-inflammatory and boost longevity, healing, supports cellular regeneration, and protects against cellular damage and genetic mutation.
ENERGY & ENDURANCE
Polysaccharides provide long lasting energy without caffeine. One study shows a boost of up to 25% in energy and endurance in vivo compared to the control group.
ANTI-AGING & BEAUTIFYING
The rich amount of melanin in chaga beautifies the pigment in your skin, eyes, and overall radiance. Melanin it also well known for expanding the pineal gland.
BOOST IMMUNITY
It improves immune function because it's a natural antimicrobial and immunomodulator. It's also a strong antibacterial and antiviral, preventing and shortening colds and flu.
BENEFITS COGNITIVE FUNCTION
It may increase the availability of Acetylcholine (ACh), a neurotransmitter in the brain that is involved in memory and learning.
HELPS RELIEVE STRESS
Being one of the few adaptogens in the world, it helps the body adapt to mental and physical stress. 
ANCIENT ELIXIR
Has been used by indigenous peoples for centuries.
IMPROVES GUT HEALTH
Due to its immune-boosting properties, chaga has long been used to support gastrointestinal health. Ulcers may be soothed by the use of chaga. 
ALKALINITY
It's the most Alkaline food on the planet due to its vast mineral content including minerals like calcium, iron, magnesium, potassium, and sulfur.
Alchemyst Co Chaga Chai will help you:
Experience jitter-free, steady energy & sharp focus thanks to adaptogens.
Drink your daily prebiotic, probiotic & anti-inflammatory for gut health.
Zero calories and delicious
Super Alkaline & raises pH levels.
Amazing for skin, hair & anti-aging health.
Helps relieve stress, boost immunity, gives your skin a beautiful inside-out glow, elevates your endurance pre-workout, and increases cognitive function.
Details

◆ Alchemyst Co Products are protected in UV-protected, matte reusable black glass, UV protected 100% recycled BPA plastic, or 100% recycled sealed bags. Our packaging is designed to protect your products from all forms of harmful UV light and degradation to preserve the integrity of your product & increase its lifespan.

◇ Every product is made of 100% pure, lab-tested, certified organic ingredients.

◆ Each product is artisan handcrafted in small batches, then carefully bioenergized and polarized using our proprietary technology to imbue specific frequencies and various different crystals to activate and harmonize every product for maximum efficacy.

◇ None of our information is intended to be an enticement to purchase and may not be construed as medical advice.

◆ All our products come with information & education including directions for use and ingredients.

◇ Our perfume oils contain 100% certified organic, natural ingredients, no artificial or synthetic fragrances, fixatives or preservatives.

◆ Our perfume oils & aromatherapy oils will contain notes, but not the expressed proprietary ingerdient list due to our proprietary secret recipes.

◇ 100% Cruelty free. No animal testing. No petrochemicals. No parabens. No sulfates. No phthalates. No toxic preservatives or harmful substances.

◆ If you have any questions, please contact us at support@alchemystco.com. We are here to assist you in selecting your most optimal Alchemyst Co products to help you live your best life.

◇ FDA DISCLAIMER: These statements have not been evaluated by the Food and Drug Administration. Our products are not intended to diagnose, treat, cure or prevent any disease.

◆ Alchemyst Co products are vastly different than any other in the world you may have tried and are more potent. Alchemyst Co products have a powerful effect as formulated following our recommended use guideline.

◇ Alchemyst Co assumes no responsibility or liability for the use of and self-diagnosis and/or treatment using these products. 

◆ None of the products or information available to the public are intended to be a treatment protocol for any disease state, but rather are offered to provide education only and regarding support for various concerns.
Ingredients

Certified Organic: Chaga, Cinnamon, Cadamom, Cloves, Ginger, Nutmeg, Vanilla Powder, Black Pepper.

◆ many of our proprietary compositions fall under US Intellectual Property Law. In these intstances, we will provide scent notes and insights as to our processes, but not disclose the percentages or exact details of our natural perfumes.

◇ Our compositions are lab-tested, certified organic and contain no artificial fragrances, phalates, petrochemicals, carcinogens, or toxic artificial preservatives or fixatives.

◆ We only use Certified Organic Jojoba and Certified Organic Meadowfoam Seed Oils as carrier oils due to their hypoallergic composition and ability to retain our energetic frequencies.

◇ Please refer to the packaging insert for complete details.
Directions

Warm 1 cup of water & 1 cup milk of your choice (we love vanilla almond milk) on stovetop until simmering.

Add 1 generous teaspoon chaga chai and simmer until liquid is reduced by half about 5-10 minutes, stirring gently. Stir in sweetener of your choice.

Sip warm to start your day off right.

Please see product insert info card for full directions.
Shipping

It takes 3 business days to process your order prior to shipping. Please allow 1-2 weeks to receive your order.

FREE US DOMESTIC SHIPPING IS AVAILABLE FOR ORDERS $100 or more.
Love Alchemyst Co? Share with your friends!
View full details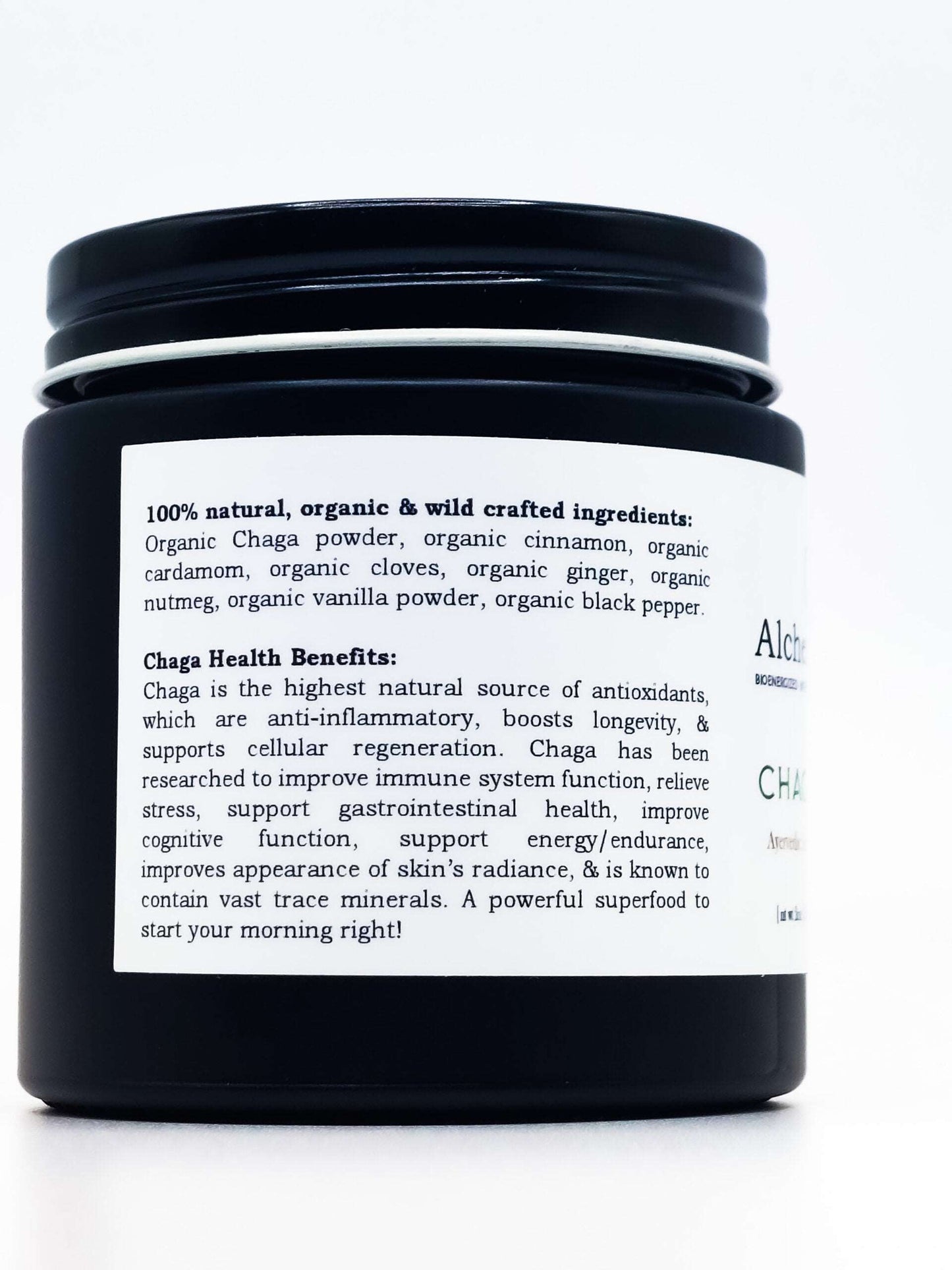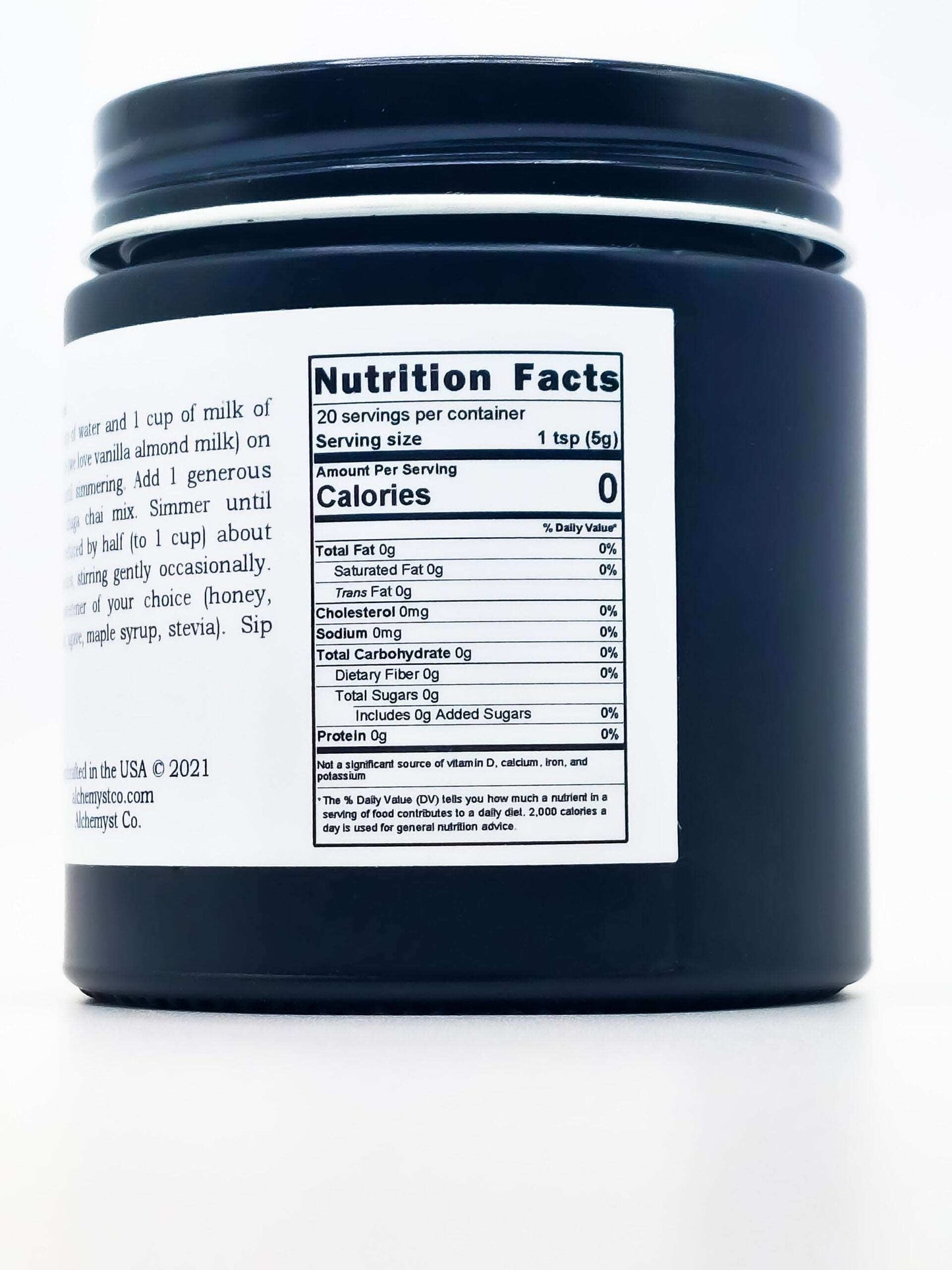 FREE SHIPPING OVER $100

We offer free domestic priority shipping on all orders over $100. International shipping does not apply.

learn more

FREE TRACKING

We offer free tracking numbers for all orders placed so you can be assured your order is on its way to you.

track your order