Regular price
Sale price
$5.00 USD
Unit price
per
Sale
Sold out
Alchemyst Co Cancer Zodiac Natural Perfume is a soothing blend that channels your emotional sensitivity and intuition.
Using vetiver, frankincense, and oakmoss to provide emotional stability, we've added notes of cypress, neroli, Bulgarian rose, and jasmine to channel your nurturing energy no matter where you go, while galbanum, lavender and fir needle reduces your insecurities and reminds you that you must take care of yourself as much as you care for others.
Our natural perfumes are handcrafted in small batches, aged and bottled in thick UV black glass to protect the perfume from degradation. 
Perhaps Cancer is your Ascendant, Sun, or Moon sign and is influencing your life in ways you did not yet realize.
ABOUT CANCER & ITS INFLUENCES
Sun Sign Birth Dates:
June 21 – July 22
Zodiac Symbol:
The Crab
Element:
Water
Ruling Planet:
Moon
Opposite Sign:
Capricorn
Cusp of Magic – Cancer Influence: June17 – 23
Cusp of Oscillation – Cancer Influence: July 19 – 25
Cancer the Crab
Every year, the sun enters Cancer on the same day as the Summer Solstice. Ruled by the maternal and nocturnal moon, people born under Cancer enjoy getting cozy, cooking, eating delicious food, and chilling out with the ones we love. 
The loving mother is also the Crab who needs to retreat back into her shell from time to time.
This is the paradox of Cancer. So loving, caring and nurturing but so easily hurt and with real tendencies to be a hermit. Cancer is ruled by the Moon, feelings and emotions. Cancer needs to follow the ebb and flow of energy and work with her natural cycles.
Self-care is another activity the sign of the Crab loves, because it's the type of energy that connects us to our bodies. But don't confuse self-care with passivity! Like the tenacious Crab, this is also the season to be assertive about getting what we want.
If Cancer is Your:
Sun Sign: Sensitive, kind, watchful, you may be prone to being overly emotional, selfish, smothering. You are emotional active seeking connection with others. Home is your natural domain, seeking security within a loving home environment. When you are happy at home you become a great source of joy for others.
Ascendant Sign: You make sense of life through intuition and emotion. You need to learn the difference between insight and projection. Highly sensitive, you must recognize the impact this can have on your life. Accept your desire to nurture and support others, careers in hospitality, caretaking, the healing arts or therapist is most suited for you.
Moon Sign: Safety, comfort-seeking and nurturing, preferring peace in your life and relationships over all else. You have an innate need to nurture, support and protect. You have strong empathy and an intuitive ability to sense what others need, but you must be careful not to martyr yourself. You are very strongly driven by emotion, ever-changing moods and those around you. You are not influenced much by instinct, or logic.

The 12 alchemical zodiac perfume blends are inspired by the 12 Zodiac constellation signs, planetary influence and elements.
We recommend you consult your natal chart and discover what is asking to be balanced in your life. Your Ascendant, Moon and Sun signs, elements and planets may influence many more aspects of your life than you realize.
Our natural perfumes are functional aromatherapy blends designed to harmonize your complex and unique nature using the power of bioenergized, intention-based aromatherapy, bringing you a sense of wholeness and courage to fully embody your highest and best self.
Each of our unique blends gives the wearer a magnetic quality to their aura, emanating from our bioenergized and polarized botanical extracts.
Details

◆ Alchemyst Co Products are protected in UV-protected, matte reusable black glass, UV protected 100% recycled BPA plastic, or 100% recycled sealed bags. Our packaging is designed to protect your products from all forms of harmful UV light and degradation to preserve the integrity of your product & increase its lifespan.

◇ Every product is made of 100% pure, lab-tested, certified organic ingredients.

◆ Each product is artisan handcrafted in small batches, then carefully bioenergized and polarized using our proprietary technology to imbue specific frequencies and various different crystals to activate and harmonize every product for maximum efficacy.

◇ None of our information is intended to be an enticement to purchase and may not be construed as medical advice.

◆ All our products come with information & education including directions for use and ingredients.

◇ Our perfume oils contain 100% certified organic, natural ingredients, no artificial or synthetic fragrances, fixatives or preservatives.

◆ Our perfume oils & aromatherapy oils will contain notes, but not the expressed proprietary ingerdient list due to our proprietary secret recipes.

◇ 100% Cruelty free. No animal testing. No petrochemicals. No parabens. No sulfates. No phthalates. No toxic preservatives or harmful substances.

◆ If you have any questions, please contact us at support@alchemystco.com. We are here to assist you in selecting your most optimal Alchemyst Co products to help you live your best life.

◇ FDA DISCLAIMER: These statements have not been evaluated by the Food and Drug Administration. Our products are not intended to diagnose, treat, cure or prevent any disease.

◆ Alchemyst Co products are vastly different than any other in the world you may have tried and are more potent. Alchemyst Co products have a powerful effect as formulated following our recommended use guideline.

◇ Alchemyst Co assumes no responsibility or liability for the use of and self-diagnosis and/or treatment using these products. 

◆ None of the products or information available to the public are intended to be a treatment protocol for any disease state, but rather are offered to provide education only and regarding support for various concerns.
Ingredients

◆ many of our proprietary compositions fall under US Intellectual Property Law. In these intstances, we will provide scent notes and insights as to our processes, but not disclose the percentages or exact details of our natural perfumes.

◇ Our compositions are lab-tested, certified organic and contain no artificial fragrances, phalates, petrochemicals, carcinogens, or toxic artificial preservatives or fixatives.

◆ We only use Certified Organic Jojoba and Certified Organic Meadowfoam Seed Oils as carrier oils due to their hypoallergic composition and ability to retain our energetic frequencies.

◇ Please refer to the packaging insert for complete details.
Directions

Please see product insert info card for full directions.
Shipping

It takes 3 business days to process your order prior to shipping. Please allow 1-2 weeks to receive your order.

FREE US DOMESTIC SHIPPING IS AVAILABLE FOR ORDERS $100 or more.
Love Alchemyst Co? Share with your friends!
View full details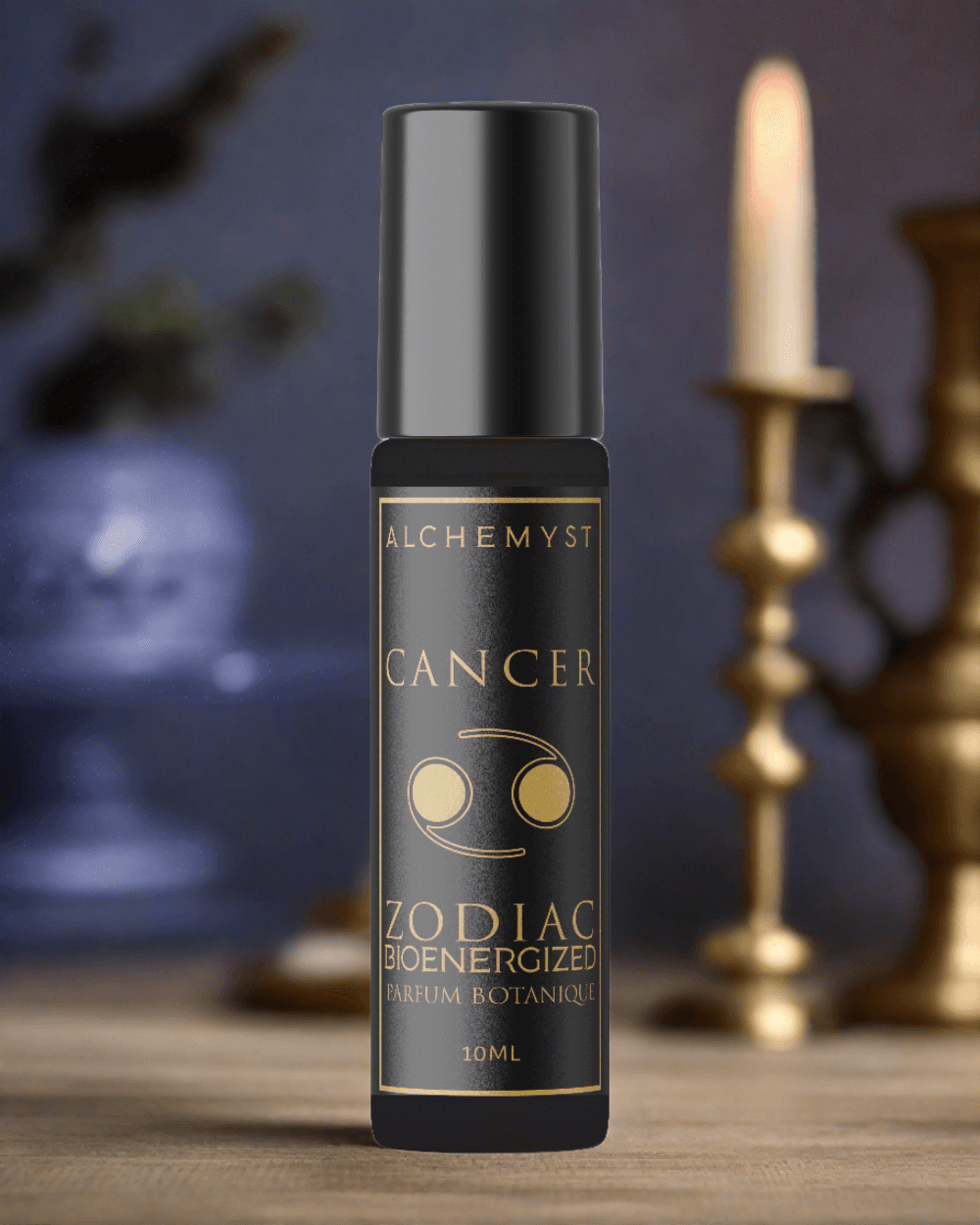 FREE SHIPPING OVER $100

We offer free domestic priority shipping on all orders over $100. International shipping does not apply.

learn more

FREE TRACKING

We offer free tracking numbers for all orders placed so you can be assured your order is on its way to you.

track your order